The Irresistible Expansion of the World's Water Giants?
More than 80% of the water supply is still in the hands of the public sector. Everytime, however, a town council in financial fetters asks around to be relieved of this burden, the world's biggest water multinational companies, Veolia and Suez, come knocking at the door. In Germany, the French water company Veolia has, during the last 10 years, risen to the position of being the largest handler of drinking and wastewater in the country, with participation in the waterworks of 450 German communities. A similarly successful expansion has taken place in Poland, the Baltic Republics, Leetonia, Estonia, Lithuania, the Czech Republic, Slovakia, Rumania, Italy, Spain, the USA, and now also in China, where Veolia claims to have signed new contracts. When water shortage was threatening California, Schwarzenegger met with Veolia's chairman of the board Henri Proglia. This man is also the first one China's President will contact when the emerging country launches its $100 billion programme for the renovation of its wastewater network.
Veolia and Suez are already active in at least 69 countries on all five continents. Is this the irresistible rise of two water giants to world hegemony over the privatised water supply?
---
The French Paradigm
The foundation of Veolia's worldwide expansion is the so-called "French model of water management". According to it, eight out of ten French citizens purchase their water from a private owner; in metropolitan areas, the ratio goes up to 9 out of 10. Three entrepreneurs share this market: at the top we find Veolia, side by side (and often in partnership) with Suez, and lastly the considerably smaller firm Saur. Together, the three have built a structural and opaque monopoly. As of the eighties, they have widened their scope to the media, particularly to the French TV landscape: Saur has a share in TF1, Veolia in Canal + and Suez in M6. The manifold possibilities of misuse of these dominant positions have thereby been strengthened, to the extent that in many cities Veolia masters not only water, but practically all the sectors of public primary services. Electricity, gas, waste management, district heating, city cleaning, local traffic, canteens, healthcare – Veolia has them all in its programme of available public services, cut for all sizes of human habitat. Many cities, not only in France but also in the United Kingdom, in Germany, in fact all over the world, gladly fall back on these offers, all the more because of the companies special know-how, better described today as financial technology. In times of scarce public resources, financial technology competence is at least as important as technological expertise in the water business. Indeed many communes run the risk of being taken to the cleaner's by a predominant multinational company.
---
At the Heart of Power
In Paris, where the concern is based, another story is being told. The City of Paris and more than one hundred other French local authorities have decided to retrieve control of the life elixir water. When the contracts with Veolia run out, these vital services must go back into the hands of public administration. Paris, therefore, becomes particularly important: the contracts with Veolia and Suez expire at the end of 2009. In November 2008, the deputy mayor and chairwoman of "Eau de Paris", Ann Le Strat announced that by the 1st of January 2010 the city would take back full public control of the water supply. In the trade magazines, the elegant Green politician is already compared to Maggie Thatcher. Whereas the Iron Lady helped to bring about the era of neoliberalism, in a world where the trend is towards privatisation of public services, Ann Le Strat shows the way back to communal service. How come that more and more communes are severing their ties with Veolia & Co. in the native land of that multinational group?
---
Financial Technology as the Most Important Know-How
In 2003, a group of citizens calling themselves "Eau Secours 31" (word play on "Help") discovered the truth about the amount which the Compagnie générale des eaux (now Veolia) had paid as "Gate money" when they signed the concession contract with Toulouse. Dominique Baudis, then mayor of Toulouse, proudly presented these 437.5 millions of FF as the big extra proceeds of the deal with Veolia. With this money, the holes in the city's finances could be filled, some public buildings could be built and the local taxes could be reduced. At this time, a confidential passage concerning the concession costs came to the knowledge of "Eau Secours 31". It allowed for an increase in the price of water to finance the gate money. So it wasn't Veolia, but the Toulouse water customers who paid it. Thus by the end of the duration of the contract in 2020, Veolia will actually have raked in more than three times the amount paid for their alleged "favour" to the city. A handsome extra profit for Veolia. The augmented fees are also hidden taxes. In fact, the water customers are paying for the city's sundry expenses which should have been financed with this gate money. Which is illegal since 1995. In France, water proceeds must flow exclusively in water ventures! The newly elected (as of March 08) mayor of Toulouse, together with the association "Eau Secours 31", is now working towards an early severance of the contract with Veolia. His aim is to "recommunalize" water management in Toulouse.
---
When Wastewater turns into Gold
In the meantime, the payment of gate money has been forbidden in France. But financial technology also means being able to skilfully circumnavigate any kind of interdiction. And naturally Veolia also masters this discipline in its international dealings. In 2005, after having bought their technical services, the multinational also purchased the city of Braunschweig's wastewater management service. The Mayor Mr. Hoffmann rejoiced: taxes' stability were guaranteed for 10 years! And € 238 mio was considered as an extraordinarily large profit from a privatisation. But as only € 112 mio flowed into the municipal budget, there was quite a lot of perplexity. Enquiries revealed that the city had, at the expense of its citizens, renounced € 38 mio so that Veolia could build up financial reserves. An incredible bluff followed, as the whole truth emerged: in fact, the Global Player had not disbursed one cent of its own money for the wastewater of Braunschweig. The tax payers of the future generation would see to it! The deal was completely financed by a loan taken by the wastewater service absorbed by Veolia, which offered the proceeds of the next 30 years as mortgage – and this with a non-recourse forfeiting of instalments clause. In other words, the good citizens of Braunschweig will, for the next 30 years, be paying for the interests and the interests' interests of the loan in addition to their water taxes, independently from Veolia's performance, off take or bankruptcy! It is in this wondrous manner of financing that the French multinational intends to deal with its future acquisitions. One of their first announcements was that less would be repaired, and large sums invested in the sewer pipes network. To this aim, it is stipulated in the concession that a further € 7.5 mio a year would be allotted to the multinational, covered by a loan similarly mortgaged. And so, at the end of the 30 years, the tax payers of Braunschweig will have forked out an additional € 215 mio for the operator's investments. On top of this, Veolia would like to buy the name "Braunschweiger Public Services". Being able to creep under the long-established etiquette of the local municipal service is worth something to the Global Player. But who, in the end, will pay to be thus bamboozled?
---
Secret Agreements
It is always tremendously difficult to unravel the wondrous and tortuous ways of Veolia & Co's financial deals. The agreements concluded are for the most part secret. As a rule, the private partner contractually ensures that it will remain durably immune to public and lawful inspection. Even members of the Bundestag have no enforceable right to inspection. In 2000, 49,9% of the German capital city Berlin's water services were sold to two Global Players of the water industry: RWE and Veolia. For four years, the deal appeared to be exemplary: almost two billions to fill the holes in the city's budget, constant water prices, and the city remaining the majority shareholder. Then, however, the Berlin deputy Gerlinde Schermer, who at the time of the privatisation was a member of the economic commission, discovered secret clauses in favour of the private owners. The management of the service, for instance, was left in the hands of the Global Players, although they were only minority shareholders. Most of the Berlin deputies knew nothing of this when they endorsed the sale. Furthermore, the secret consortium agreement guaranteed to the buyers a profit of about 8% in addition to a guaranteed increase of same. Should the rate of return not be attained, the Berlin Senate would be held responsible to compensate. Consequently, in 2004, the city had to do without € 41,2 mio. The same year, the price of water increased by 15%, as it did in the following three years. In the course of the years, the land was being forced to renounce to part of its returns – otherwise, the private owners threatened to double the increase of the price of water. A ruling of the Berlin Constitutional Court stating that the expected size of the guaranteed revenue was illegal didn't make any difference, as the consortium agreement stipulated that a compensation was due by the Berlin Senate also in the case of a subsequent court ruling – and so the pretentions of the Global Players, notwithstanding legal decisions, acts of parliament or democratic decisions, remained valid. A citizens' initiative launched in 2007 by the Berlin Roundtable on Water and demanding the publication of the secret agreements, successful at first instance, was in the end declared illegal. Even through a referendum, the secret character of the agreements could not be put into question.
---
Beyond Democratic Control
A considerable number of variants of opaque financial routes, secret clauses, the lack of possibilities of democratic control, corruption and long term continuous price increases are the most visible characteristics of thousands of worldwide water enterprises belonging to the Global Players Veolia and Suez, be it in Berlin, Klagenfurt, Budapest, Bucharest, Odessa, Tbilisi, Erivan, Soweto, Casablanca, the Chinese Haikou, the Italian Province Latina … or Paris. In 2001, when Anne Le Start was nominated "Eau de Paris"'s president, she found herself in a men's world, the world of the highly opaque Paris water management. A certain Jacques Chirac, former mayor, to this day still strongly suspected of corruption in this affair, had set up the structure: on the one hand water distribution, as well as the thousands of km of ductwork, bookkeeping, and so on, were in private hands, the left bank of the Seine belonging to Suez and the right bank to Veolia. Whereas, on the other hand, the production of drinking water and water sanitation were the responsibility of the municipality – so to speak, as until 2007 Veolia and Suez were also optimally represented in the production syndicate "Eau de Paris" as they held 30% of its shares. This structure brims over with the overlapping of competences. But the worst thing, according to Ann Le Strat, is the commune's loss of control over decisive questions: how does the actual performance of Veolia and Suez match up with their exorbitant profits? Do the prices invoiced actually represent the work accomplished? How high are the effective administrative costs compared to those put in the water invoice? How many of the Veolia and Suez personnel charged therein actually work for the Parisians? Have the enormous amounts which have flown into their pockets to maintain the piping network, keep it in shape and renovate it really been used for this purpose? Wasn't the phenomenal expansion of Veolia and Suez also financed with the Parisians' taxes? Lille, Lyon, Toulouse, Rennes, Ile de France, Bordeaux, Grenoble: these last few years, a sad chronicle of inflated prices, corruption, deception and disappearing investment funds corroborated the pertinence of these questions.
---
Structural Corruption
No doubt such deplorable circumstances, which have been revealed over the years by public enquiries, are a form of structural corruption, facilitated by the downright unhealthy relationship between politicians and the French water industry. This form of corruption is much more widely disseminated than personal enrichment, or the occult financing of political parties, which were in the limelight at the beginning of the nineties. It isn't a coincidence that Veolia and Suez celebrate any instance of pantouflage and the departure of top managers in the state bureaucracy for the free market as a quality sign. Since 2007, Stéphane Richard, formerly head of Veolia Transport, is director of cabinet in the French Ministry for Economy. Veolia's chairman of the board is a friend of the Minister for Justice Rachida Dati and has therefore privileged contact with the Sarkozy / Fillion regime. Foreign Affairs Minister since 2002, then Internal Affairs Minister, Dominique de Villepin, who was also Prime Minister between 2005 and 2007, consorted for a short while with Veolia as "international consultant". Sylvain de Forges, financial director of Veolia since 2003 is at the same time chairman of the board of the powerful French Ministry of Finance's agency "Agence France Trésor", responsible for handling State properties and debts. Rainier d'Haussonville, at present Manager of Veolia's European Operations, was head of the "Secrétariat général des affaires européennes" in the Foreign Affairs Ministry until 2004. He then (between 2005 and 2007) became head of the Department for European Economic Affairs of the French Prime Minister. The political scientist Gérard Le Gall, adviser for public opinion surveys to Prime Minister Jospin, left his university post in July 2004 to join Suez. Before the presidential elections, at which time he switched to Sarkozy, Eric Besson was responsible for the economic programme of the socialist party. Before that, between 1998 and 2002, he had been at the head of the Vivendi (now Veolia) Foundation. Most of those who went through the revolving door of the French water industry to politics and big business graduated from the prestigious ENA (National School for Administration) - even the German Joachim Bitterlich, Executive Vice President of Veolia. No wonder Veolia (until 2002 called Vivendi) stood as short for "VIVier pour ENarques en DIsponibilité", "recruiting fish tank for available ENA graduates". Quite incidentally, it goes without saying that Veolia is a shareholder of the World Bank and the major shareholder of the French State.
---
The Stranglehold of Private Competence and Monopolistic Markets
Even if Paris will definitively be rid of Veolia and Suez at the end of 2009, the future will in no way be "a piece of cake". The hangovers from the Global Player's era will be numerous. There are also heated discussions going on in the 144 Ile-de-France communes surrounding Paris whether the contracts with Veolia and Suez expiring in 2010 should be renewed. The supporters of a continuation of the concession are afraid that, without the technical and human competences of Veolia and Suez, the water syndicate could be in big trouble. It is a fact that in the past, the communes have not been too concerned to build up a roster of water specialists, nor have they established their own research facilities. In France, the monopoly for the development of the technology and the formation in this sector has been left to Veolia, Suez and Saur. Anne Le Strat has taken us to see a building site where water canalisations were open to be fitted with sensors to detect burst pipes. A discovery patented by Veolia and certified by the EU as standard technique to detect leakages from afar. The public water syndicate "Eau de Paris" will have to purchase this technology from Veolia at highly monopolistic prices. An alternative to this will not be easy to find – the same goes with water quality control, for which in the early days official laboratories were responsible. Today, it is in the hands of three multi-national companies: Eurofins, Carso and Pasteur Lille. All three have strong ties with Veolia, Suez and Saur.
---
Citizen Resistance is Possible
Jacques Perreux, vice-president of the "Conseil Général du Val de Marne" (General Council of Val de Marne), is proud of having at least retained the sewage sector of the department. The sanitation price there is far below the one proposed to neighbouring Ile-de-France agglomerations. Nevertheless, the technical level of their wastewater treatment plants is exemplary. With its project to also sanitize rainwater in the future, Val de Marne holds one of the rare top places at the European level. Jacques Perreux's only concern is the monopoly of private laboratories for the quality control of wastewater. Therefore, together with Anne Le Strat and some communes near Paris, he launched an initiative to build a common laboratory which could assess water quality independently of the private laboratories of the Paris region.
---
Veolia Standards Enter through the Back Door
By now, the EU plays a central role in the determination of water quality, controls and technology standards. And here too it seems like a matter of course that Veolia and Suez take part in it. Which is why, next summer, we will see vehicles and people wearing the well-known Veolia logo all along the French coastline. Right in time for the season, as the multinational's latest invention for the control of water quality on beaches was just certified by the EU. The public services which in the past were handling this task for the communes will now have to pay through the nose.
---
Key Role in EU Water Research
Veolia takes an active part in the on-going EU research programmes on water, but the multinational is foremost a key player in the technical platform for water and hygiene (WSSTP), depending directly on the EU. Beside WSSTP vice-president Xavier Chazelle, two Veolia employees sit in its committee of 10. Together, Suez and Veolia pay for at least 60% of the committee's subsidies. Originally set up for the promotion of sustainable development and the attainment of the United Nations' Millennium Target, it was also supposed to enhance the European water industry competitiveness. By 2008, only the last of these three objectives remained. When the members met in June, the only topic was new technologies around collection and sanitation of sewage water. The former themes, such as the protection and care of groundwater resources and the promotion of organic farming to protect groundwater from pesticides and to stop the earth from drying, were hardly paid any attention. According to a Veolia representative, these things were the responsibility of the States. He added that the market of the (private) water industry was polluted water and that therefore, no one was interested to see the volume of such a market diminish.
---
Sustainable and Responsible?
In this context, Veolia asked in a memorandum to the EU Commissariat for Environment dated end of 2007: "Can it be considered as responsible to have the customers pay higher water prices as a result of measures advocated by the Commissariat (i.e. measures to reduce the consumption of water, for the protection of groundwater resources etc..) when the development of other water resources is cheaper?" In other words, when the refection of leaking pipes and the long-term use of existing groundwater is more expensive than the recycling of surface water by sanitation or desalination, why on earth repair pipes and protect groundwater ? And what is the purpose of sustainability? Particularly when it reduces the necessary use of water … and consequently Veolia's rate of returns! Officially, particularly in Germany, Veolia waves the flag of sustainability, writes detailed papers on the subject, and proclaims brilliant results in environmental matters. How does this image tally with the "profit at the detriment of natural resources" policy advocated in Brussels? In 2006, Veolia also put on the cap of "Responsible Lobbying" and as such published information on the multinational company's lobbying activities, paying lip service to the UN Initiative for Transparent Lobbying. In this publication, Veolia admitted to be part of two water organisations (EUREAU and Aquafed), one lobby group for water economy (Business Europe) and one think tank (Confrontationes Europe). However, independent observers of "Corporate Europe Observatory" have for their part proven its appurtenance to 7 lobbying groups for water, 11 for water economy and 5 think tanks. How can this be reconciled with the "Responsible Lobbying" image?
---
Pulling Strings Behind the Scenes
In fact, the Global Players prefer to leave their influence over the EU in the shadows – through a tangle of more than 50 organisations, barely to be understood by experts, having more or less direct ties to Veolia. And of course pantouflage is also omnipresent in Brussels, which makes the borders between the interests of multinational companies, national states and the EU all the more hazy. Here are three examples of the so-called "big fish". Suez' chairman of the board, Yves Thibault de Silguy, is a former EU Commissar. He teaches at the French École Nationale des Ponts et Chaussées, the college for civil engineering from which 120 civil engineers graduate each year. At the same time, he heads the Communication Department of the Water Trade Professional Association – a foundation created by the consortium Suez, Vivendi and Saur. On top of this, he boasts of his former affiliation to the French leftist party. Joachim Bitterlich, Veolia's Executive Vice-President, was for more than eleven years very close to State Chancellor Helmut Kohl, dealing initially with European politics matters, then between 1993 and 1998 as leader of the Department for Foreign Policy, Development and Security of the State Chancellery. An article in Zeit magazine described him as a "co-minister for foreign affairs" and "the most powerful civil servant in Bonn". His exceptional commitment to the EU assured him of an influence and a big trust in Brussels lasting to this day. Stéphane Buffetaut, Veolia's Director for Relationships with the EU, was a member of the European Parliament and still sits in the European Economic and Social Committee (EESC).
---
Privileged Access to the EU's Decision Process
Because of Veolia's set up to exercise influence over the EU, "Corporate Europe Observatory" gave the multinational company the best grade for "Having the highest and most privileged access to the EU's decision process". This influence is two-fold: first, pressure is applied to impose more expensive and energy-intensive sanitation techniques to be used instead of measures being taken for the preservation of water resources. Secondly, Veolia attempts to influence the passing of directives which will be detrimental to their competitors, particularly official water suppliers. Veolia's efforts to have water considered as an ordinary commodity subjected to the EU's competition guidelines were supported by the EU Commission. However, these efforts were in vain, as the EU Parliament firmly rejected the motion in 2004. Since then, Veolia and Suez have joined forces to launch a campaign "for efficient structures in water management". This campaign particularly targeted the supposedly inefficient motley of the many small and very small suppliers, particularly in Germany, but also in many other European countries. In a meeting with the EU Commissar for Business Competition, Veolia's representatives complained of discrimination in favour of official water suppliers, who should be forced to more transparency and openness towards the Global Players through the application of compulsory benchmarks (comparative references).
---
But who, in the end, is more efficient?
More than 90% of the German water services are publicly owned. Here, the water is chlorinated only in the case of very exceptional situations, whereas that is common practice in almost all of the 80% of the privately owned services in France. But in Germany too, chlorination and its procession of unhealthy end products registers progress. After the (in part) privatisation of the Berlin water system, Veolia is already trying to bring the possibility of chlorination of the Berlin water into the picture. At the same time, the permanent maintenance of the pipes has in many cases been replaced by risk management: pipes are only repaired when there is a leak. The schedules for the maintenance of material are more spaced out and the cheapest is chosen when new investments are needed. The long-term consequences of this policy are visible in the neighbouring country. 840.000 km of the French water ducts, controlled by more than 80% by Veolia, Suez and Saur, are more than 30 years old. The leaks in drinking water canalisations are in the order of 26.4%. In Germany, until recently, they amounted to 7.3%. Nevertheless, according to Veolia, the plundering of more water resources is still more efficient and cheaper than the costly renovation of the canalisations, particularly in the cities. Increased use of recycled sewage water as drinking water will follow automatically. And so it is not particularly surprising that in France, as well as in the United Kingdom, the 2015 deadline is giving headaches, as the European ordinance on drinking water will then be in full swing. In Germany, with only a few exceptions, the observance of the ordinance will not be a problem.
---
The Dream of Being World No 1
Veolia was born in 2003 following the financial crash of Vivendi Universal, one of the multinational companies which, in times of hyper-globalised market speculations were planning to become World No 1 of the mega players incensed by the media. Six years before the worldwide burst of the financial bubble, the dream of Jean-Marie Messier, at that time chairman of the Vivendi's board, to become Mr Universe turned into the nightmare of bankruptcy and the biggest capital loss among the French companies. He is to this day being sued by swindled investors all over the world. Since then, Veolia Water, with 8400 operation contracts, has clearly fulfilled Messier's dream. At least in the world of private water handlers the multinational is the indisputable No 1! Has this erased the memory of the not so long ago downfall of the "mother" company? Sceptics, in this case, are the most realistic. Only in 2008, Veolia's stock lost 70% of its market value, where their net debt rose to a problematic € 16.33 billion (against only € 5.727 billion of long-dated assets). In the world of water distribution, investments, for instance in the field of piping, are made with a life expectation of 30 years. The deadline for measures to be taken for the protection of ground water resources is much longer. But for Veolia, life expectation is of one accounting year, after which time shareholders, depending on the results in the balance sheet, will turn their thumbs up or down. Next year already, everything can be totally different. Who will take the risk of approving long-term investments? There is not one investor today who will bet a cent on a 30-year survival of Veolia. Soon, many more dreams of becoming No. 1 of the world will undoubtedly have disintegrated, to the tune of billions in losses.
The film "Water Makes Money"
Most people don't realize the value of the important things in life until they're no longer available. Good water is one of those things.
A human being is 70% water. He has to keep refilling, otherwise he's dead after about 3 days. That's why water, as an essential basic foodstuff, has always been a publicly administered commodity. And throughout the world today more than 80% of all water supplies are still administered by public authorities. For good reasons: drinking water and waste water are always a local monopoly. Nowhere in the world does water from various competing suppliers flow through the public network of pipelines. A market is unimaginable. He who privatises this essential service all the same, replaces a public monopoly with a private one.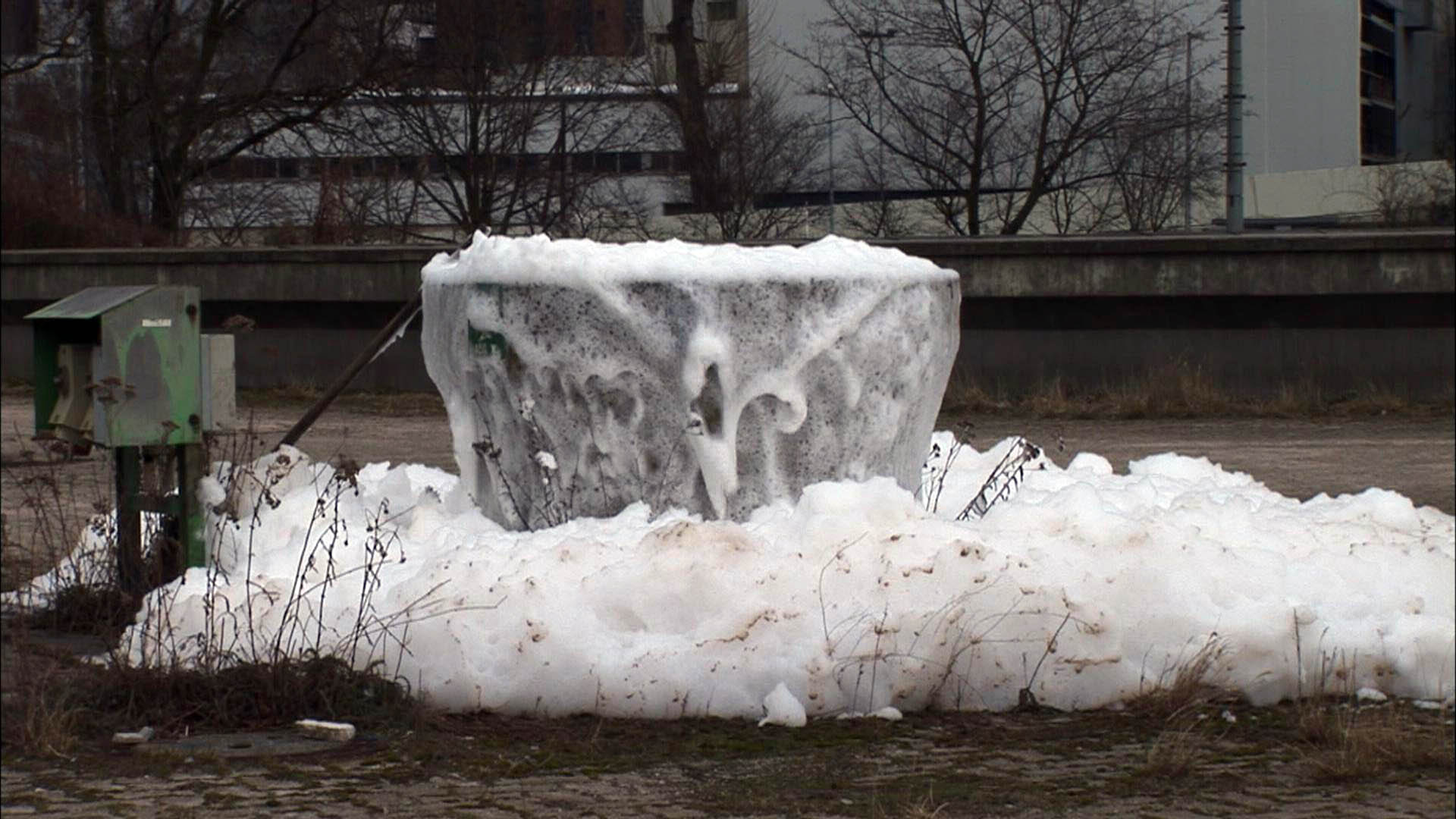 This is exactly what is taking place throughout the world in the name of competition and the market, when water companies such as Veolia and Suez knock on the doors of financially hard-pressed communities. Global player Veolia – emerging first in 2003 as the offspring of Vivendi Universal (link to:themes of the film/ the dream of being the world's Nr.1), a result of France's greatest financial-political crash – is present in at least 69 countries on all five continents, thus ranking No. 1 in the world of private water supply. In Germany the French water company has risen in a short time to the position of being the largest supplier of drinking and waste water in the country, with participation in the waterworks of 450 German communities. Day after day the French global players report new conquests. (link to:themes of the film/ inexorable climb) They promise efficiency, the possibilities of easier financing and as well as sustainability. But in France, the concern's home, hardly anyone believes them......
The "French model"
Here of all places, where Veolia and Suez supply 8 out of 10 citizens with water, many municipalities want to get rid of these concerns a soon as possible. (link to themes of the film / at the heart of power) Lack of transparency, poor water quality, continual cost increases and monopoly abuse are the accusations. The municipalities have great difficulty monitoring whether the amounts in the billings correspond to the services performed. Were the billions paid in fees really used for restoring the pipes? Has the money French municipalities paid for water been used to finance the global expansion of Veolia and Suez?
Right in the heart of the water giants' power, in Paris, there is an open wound. The capital city and more than one hundred other French municipalities have decided to retake control over these essential services. At the end of this year Veolia and Suez must pack their bags in Paris. After that the water supply will be administered by Parisian municipalities.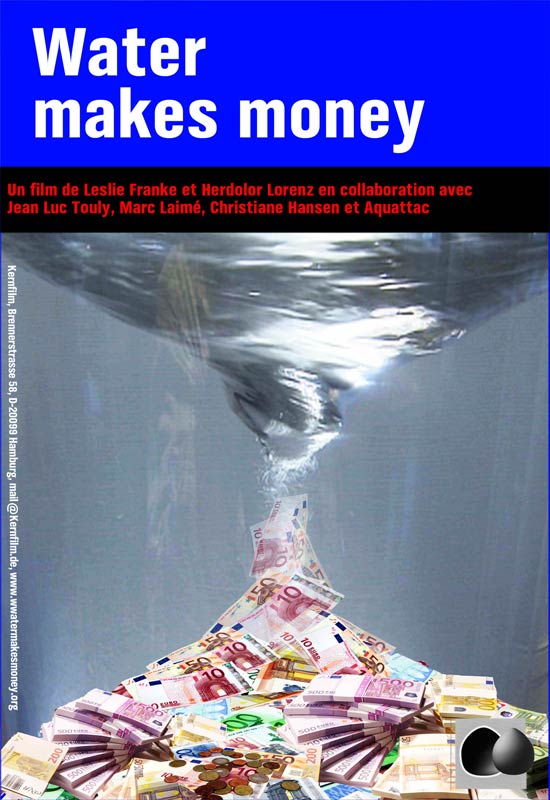 "A film "from below"
The film "Water makes money " (Link to: Water makes money) will cast light on these explosive new developments. It will show what Paris and other French communities have learned from the rule of Veolia & Co., and how they have managed to retake control of the water. Examples from Europe and America expand the film into a teaching example for the entire world! (link to: Water makes money/ the making of the film) "Water makes money " will provide encouragement: Water in the hands of the people is possible!
"Water makes money" has been developed as a "film from below" – financed by those who want to see it, those who want to show it, those who need it as a medium of education. What a film of this kind can accomplish in the way of education and mobilization can be seen from another project by the same film maker, "Railway on the Auction Block".
The first signer of the appeal where .: Achille du Genestoux; Jérôme Polidor; Claudie Carayon; Sylvie Agard; Nathalie Medeiros ; Raymond Avrillier ; Jean Louis Courture; Michele Constans; Céline Mandon; Vincent Gaillard; ATTAC München; Christian Schubert; Kirsten Heininger; Christina Kaufmann; Gabriela Greif; Surya Fackelmann; Victoria Reichel; Nils Aguilar; Kirsten Heininger; Jasmin Obermeier; Clarissa Becker; Malte Schmidt; Wolfgang Beer; Verena Inahkamen; Jan Schmieder; Melanie Le Touze; Andreas Rauch; Jacob Sandler; Beate Lammert; Barbara Kratky; Kristina Würz; Suzanna Salem; Henriette Jenke; Dr. Hans-Ulrich Fischer, IGM; Rolf Becker; Wolfgang Rose, Landesbezirksleiter Ver.di Nord; Lucien Sanchez, Eau secours 31; Larry Ford Felton Flow, California; Jürgen Mumme, Vorstand Robin Wood; Mathias Ladstätter, Verdi Fachgruppenleiter Wasser; Ralf Höschele, Stv. Juso-Bundesvorsitzender; Johannes Hauber IGM; Mathias Venus, Die Grünen; Joachim Oellerich, Mieterecho Berlin; Elke Schuster; VITTI; Annette Henssler und Klaus Ihlau; Prof. Dipl.-Ing. Karl-Dieter Bodack; Albrecht Kappis; Gerlinde Schermer, SPD; Bernd Rode, Wasser Allianz Augsburg; Dr. Doris Rüb; Michael Joho, Einwohnerverein St. Georg; Ingrid Weiss, Wasserkarawane; Jürgen Dr.Fegeler; Dr. Karin Seiffert- Abuzied; Monika Schierenberg; Andrea Schönberger; R. und S. Naves; Johanna Erdmann; Marianne Spiller; Matthias Holzer; Evelin Maahs; Marianne Dallmer; Stefania Molinari; Roswitha Harting; Klaus Böhringer; Silke Graupner; Sabine Hofmann; Dr. Petra Hemptenmacher; Ekkehard v. Hoyningen-Huene; Werner Maschewsky; Grit Bernhard; Frank Bernhardt; Thomas Schmidt; Elke Hügel; Stefan Wilker, attac Osnabrück; Hans Gräf; ATTAC Rostock; U. Baden und J. Schöfer; Freya Pausewang, Attac Wiesbaden; Walter Bouhs; Klaus Zähle; Dr. Ernst Uhl; Wolfgang Gerber; Robert Huber; Silke Graupner; Marie Blum; Michael Becker, Florian Hobert; Josh von Staudach; Andreas Schönherr; Dr. Dieter H. Buß; Carola Sigel; Andreas Meyer; Eckard Köppel; mediatrainings Berlin; Frank Schneidler; Christa Schreyer; Hedwig Bettels; Dieter Bub; Attac Rosenheim;Helga Gattig; Daniela Herting; Frank Schneidler; Turan Inac; Monika Bremen; Dr. Sabine Manning; Eva Maria Sontheimer, Attac München; Johannes Dreßler; Jörg Tempel; Urike Breitmann; Johann Schwarz; Alfred Körblein; Joanna Gröning; Peter Gloede; Emily Keller; Norbert Umland; Ralph Ahorn; Hans Joachim Fette; Silke-Maria Pelka; Simone Hofmann; Jürgen Kuck; Udo Boehlefeld; Petra Blank; Dr. Manfred Dullien; Stefan Gramsch; Dieter Posner; Anja Gärtner; Ulrich Scheske; Guido Zimmermann; Gebhard Moritz; Monika Neumeyer; Gabriele Gschwind-Wiese; Herbert Schneider; Julius Verrel; Mallet Pascal; Peter De Paepe; Melle Pretot Monique; Klaus Sümmerer; Gerhard Jüttner; Ulrich Görlitz; Karsten Schulz; Eckart Kühne; Angelika Wahl; Dr. Klaus Urgast; Henrik Wittenberg; Ingo Eger; Alexander Staff; Friedmut Dreher; Raimund Kirchweger; Moritz Münst; Heiko Porsche; Johanna Stoll; Manfred Lutz-Jathe; Gabriele Freikauf von Crailsheim; Oliver Pospisil; Marion Steinmacher; Theo Tekaat; Rosemarie Bergmann; Norbert Kolhoff; Maik Mathias; Regina Jürgens; Asemann Christian; Eberhard Größler; Claudia Rolko; Florian Dittrich; Maria Kreußer; Markus Staudigel; Wolfgang Steudle; Cornelia Lechner; Fotosatz Kretschmann; Werner Besuch; Wolfgang Kumpfer; Claudia Jetter; Jutta Gütschow; Arndt Schwab; Lieselotte Streit; Bernd Dieter van Look; Thomas Meisner; Frieder Aumann; Kai Fieguth; Philippe MUSSI; Francoise Contet; Ingeborg Tholen; Benjamin Kammüller; Theodor Holtendorp; Ina Rüdenauer; Henry Weber; Harald Jäckel; Eberhard Kögel; Helga Jäschke; Jürgen Bandowski; Dr. Tankred; Rolf Rehfeld; Johannes Folger; Günter Lübcke; Gabriele Brunner-Huber; Brigitte Henkel; Friedhelm Botsch; Friedmut Dreher; Renate Dubs-Janssen; Peter Fahsing; Christa Schreyer; R. Friedrich; Roland Halfen; Tom Ackermann; Hans-Joachim Kämper; Wolfgang Kumpfer; Karin Harder; Jörg Waschatz "Redaktion des Express"; Frank Hoppe; Kirsten Voß; Eckart Mayer; Kristin Müller; Tine Müller; Christoph Schlünkes; Holger Busche; Jorge Manuel Roque Batista Fael; Loiseau Franck; Rüdiger Kabbasch; Werner Nienhüser; Joel le Leonnec; Monique Pretot; Lucien Sanchez; Francoise Contet; Christian Vizier; Janet Netzer; J.P.; Matthias Veil; Regina Schmitz; Rita und Gerd Hierl; gabriela Gröger; Marie- Pierre Agnes; Edgar Weimer; Ola Bath; Candy Gierke; Christa Ullrich; Dr. Fegeler; Freya Pausewang; Joachim Schritt; Martina Hybsier; SusanneMoussa-Röber; Remus Pockrand; Hans-Joachim Fette; Simone Hofmann; Dietrich und Heike Harsch; Tobias Polzin; Adam Onken; Dr. Eva Maria Sontheimer; Helge Zobel; SusanneHaltermann; Folker Blaschke; Jutta Lingos; Ingo Eger und Karin Kraechter; Klaus-Dieter Sümmerer; VNB-Geschäftstelle Barnstorf; Irene Meyer-Herbst; Christof Weisenbacher; Oda S. und Holzer G.; Peter Kammerl; Joas und DR. Albert; Ingo Lenz; Johanna Lesch; Insel& Bad Apotheke;; Christa Silbernage; Wolfgang Deinlein; Carl Waßmuth; VER.DI LBZ Hamburg; Elisabeth Jenders; Wolfgang Fladung; Rosa Maria Reindl; Claudia Berger; Gunnar RonaldVogel; Hermann Schröder; Thomas Meisner; Fouad und Herta Yonis und Wiesbeck- Yonis;Sabine Kröner; Inge Bracconier; Lars Meier- Küster; Kai Frieguth; Ulf- Dieter Korn; R. und U. Richter-Elbe; Dr. Silvester& Cornelia Lechner; Claudia Jetter; Dr. Dietrich Bauer; Joachim Dillinger; Josef und Renate Fortner; Ingmar Pfaff; Rainer Sommer; Theodore Holtendorp; Horst Hesse; Elisabeth Roider; Gudrun Kofend; Stephan Consemüller; Dagmar und Tilman Neubronner; Heidi Stöhr; Gerhard Lehmann; Gerhard Landerer; Walter und Mechthild Von;Dr. Ernst Mönnich; Lothar Schulz- Pernice; Eberhard Busche; Veronika Baier; Torsten Kneissl; Berliner Mietergemeinschaft; Dr. Karin Hartmann; Liselotte LottermoserUlrike Massard; Pädagogisches Zentrum EV.; Kreative Energietechnik; Heinrich Wienand;Rainer Friedrich; Hydro- Elektrik GMBH Verfahr Entstehtechnik; Joachim und Nina Vollmer;Gerlinde Schmidt; BettinaKrauß; Doris Hensinger; Hans Kuppermann; Ilona Engler; Renate Bergmann; Brigitta Scheef; Heinz Bracker; Gabriele Gröger; Franz Geser; Dr. W.Rügemer; Olaf und Frederike Malek; Esch Tilmann; Arbeitsgemeinschaft zuer Förderung Zeitung Express; Heinz Möller; Bernd Rehberg; Hermann und Ursula Wuttke; Kriemhilde Stürzl und Baltmann Sweile; Dr. Helga Lesigang Grünber; Rohny Bajohr; Eberhard Kögel; Emily Keller; Phillip Stüssi; Stephan Sautter; Ursula und August Hipper; Unser Wasser E.V.; Gisela Heindl; Raimund Peter Kirchweger; Renate Dubs-Janßen; Eckart Mayer;Ulrike Größler; Gudrun Leopold; Unda Miscolczy; Dr. Claudia Burckardt; Matthias Korn; Perrier Florian und Anne-li; Lothar Tomaschewski; Gottfried Graupner; P. Schlad;Gottanka Josef Schildthurn; Martina Sindermann; Jean Floquet; Elena Luksch; Peter Mäling; Guido de melo; Gudrun Fenten; Karl-Heinz Thier; Gerd Schleweck; OEDP- Kreisverband Erding; Marco Sorriento; Volker Kufal; Susanne Breckel; Annemarie Renftle; Dr.Andreas und Gudrun Schirmer; Andreas und Christa Damm- Lorenz; Sylvia Meier; SPD- Parteivorstand; Dietmar Geckeler; BarbaraBorchardt; Dierk Hilger; Erika Krap; Peter-Guido Thüsch; Fraktion Linke Liste Wiesbaden; GangolfStocker; Waltraud Aigner;Yvon Levaslot; Sonja Rießler; Knapp; Linnenschmidt; Huber; Christian Bonnaud; Eric Colas; Jean- Bernard Ousset; Emschergenossenschaft; Dirk Leinweber; Mario Laube; Geneviève Jean Masson; Wetzorhe; Stephan Michael Heimgartensie; Alfred rabold; Stadtwerke Bad Schwalbach; Edmund Galli; David Kuck; Ulrike Kühnert; Marisa Merlini; Stephan Best und Armin Prinz; Rainer Rilke; Roman Götzmann; Frederic Taillefer; Attac de l'oise; Ensemble pour une ile vi; Francoise Contet; Zeitung "Express"; Ulrike Kühnert; Werner Wrensch; Roman Götzmann; Frank Hübner; Thomas Reuter; Ulrich Meyer; Birgit Holsten; Gerrit Griebel; Justus Dallmer; Bernhard Meyer; Ulrich Knur; Klaus Lang;Ulla Biebrach-Platt; Maria osemeyer; Georg Klinger; Ingeborg Henker-Kelsch; Karl-Wolfgang Rebel; Hendrik Lüdke; Gerhard Jüttner; Dieter Kaag; Friedrich Seegmüller; Ulrich und Stefanie Wachowitz; Jörn und Christiane Wilke; Horst Kraft; Christian Burmann; Dr. Ing Thorsten Löber; Herbert und Dagmar Rubisch; Bernhard Eichmann; Thomas Vogler; Siegfried Mutschler- Firl; Edith Salmen; Monika Höchtl; Friedrich Seegmüller; Ulrich Mayer; Philipp Hansen; Michael Schulzebeer; Willi Handlos; Gerlind Jackowski; Touristenverein- Naturfreunde ; Dr. Eckart Kühne; Jacques Jouannic; Dr. Manfred Dullien; Thomas Richter; Claus Gieseke; Armin Geissler; Hildegard Grünewald; Herbert Schulzebeer; Karlhein und Ursula Winter; Gilbert Leprevost; Kess Gmbh c/o kreative Energietechnik; Toskanaworld; Thomas Schlierbach; Christoph Schumacher; Brigitte Schütte; Hartmut Bohrer; Christophe Rialandl; Andreas Kahlert; Netzwerk am Turm E.V.; Dagmar Welke; Werner Knopf; Kerstin Reiste; Sabine und Dirk Thonke; Mr ou Mme Mevel; Wasser Allianz Augsburg E.V.; Veronique Mei; Birgit Rudolph; Martina Nelissny; Florian Laveuve; Verena Inahkamen; Hubert Herden; Rosa-Luxenburg-Stiftung; Müller; Dr. Ursula Stahlbusch; Walter Friedmann; Jean Sineau; Stephan Ungeheuer; Gerhard Bolm; Jörn Klostermeyer; Günter Ott; Rudolf Knutti; Catherine Steghens; W. Herzog Oskar-Kühlen-STZ.; Ver.di Bezirk Südhessen; Bernd Mugele; Attac- Lot; Stiftung Menschenwürde und Arbeitswelt; Michael Dunst; ATTAC France; Dr. Annette Haar; Ingo Kübler; Gerlinde Schermer; Reinhard Roth; Karl-Heinz und Erika Opper; Petra Chalk; Alfred Rabold; Stadtwerke Bad Schwalbach; Edmund Galli; Gabriella Pinna; Rosemarie Gößwein; Irene Meier-de Spindler; Thomas Gröbly; Werner Wrensch; Roman Götzmann; Frank Hübner; Thomas Reuter; Ulrich Meyer; Birgit Holsten;Gerrit Griebel;Justus Dallmer;Bernhard Meyer;Ulrich Knur; Klaus Lang; Ulla Biebrach-Platt; Maria Rosemeye; Georg Klinger; Torsten Löber; Ingeborg Henker- Kelsch; Karl-Wolfgang Rebel; Hendrik Lüdke; Gerhard Jüttner; Dieter Kaag; Ulrich und Stefanie Wachowitz; Jörg und Christiane Wilke; Horst Kraft; Christian Burmann; Dr. - Ing. Torsten Löber; Herbert und Dagmar Rubisch; Bernhard Eichmann; Thomas Vogler; Siegfried Mutschler- Firl; Edith Salmen; Monika Höchtl; Friedrich Seegmüller; Ulrich Mayer; PhilippHansen; MichaelSchulzebeer; Willi Handlos; Gerlind Jackowski; Touristenverein- Naturfreunde; Dr. Eckart Kühne;Jacques Jouannic;Dr. Manfred Dullien; Thomas Richter; Claus Gieseke; Armin Geissler; Hildegard Grünewald; Herbert Schulzebeer; Karlhein und Ursula Winter; Gilbert Leprevost; Kess Gmbh c/o kreative Energietechnik; Toskanaworld;Thomas Schlierbach;Christoph Schumacher;Brigitte Schütte; Hartmut Bohrer; Christophe Rialandl; Andreas Kahlert; Netzwerk am Turm E.V.;Dagmar Welke;Werner Knopf; KerstinReistel; Sabine und DirkThonke; Mr ou Mme Mevel;Wasser Allianz Augsburg E.V.;Veronique Mei; Birgit Rudolph; MartinaNelissny; Florian Laveuve; Verena Inahkamen;Hubert Herden; Rosa-Luxenburg-Stiftung;Müller; Dr. Ursula Stahlbusch; Walter Friedmann; Jean Sineau; Stephan Ungeheuer; GerhardBolm; Jörn Klostermeyer; Günter Ott; Rudolf Knutti; Catherine Steghens; W.Herzog Oskar-Kühlen-STZ.; Ver.di Bezirk Südhessen; Bernd Mugele; Attac- Lot; Stiftung Menschenw. u.Arbeitswelt; Michael Dunst; ATTAC ; Dr. Annette Haar; Ingo Kübler; Gerlinde Schermer; Reinhard Roth; Karl-Heinz und Erika Opper; Petra Chalk; W. Wetzorhe; Mme Blum;Ms Mallet; Francoise Contet; Christian Vizier; Dr. Jürgen Fegeler; Stephan Michael Heimgartensee; Alfred Rabold; Stadtwerke Bad Schwalbach; Edmund Galli; Gabriella Pinna; Rosemarie Gößwein; Irene Meier-de Spindler; Thomas Gröbly; Christoph Rudel; Joachim und Nina Maresch; Klaus-Hermann Sieg; Ludwig Henning; KerstinRaphael; Hans- J. Und O.M. Baublies und Werfl; Sebastian Jekutsch; Werner Maschewsky; Jutta Heppekausen; Freya Pausewang; Dyrk Grübl; David und Phillis Fermer;Bernd Rehberg; Konstanze Schäfer; Siegfried Scmidt; Anton Bauer; Norbert Maak; Gisela Burckhardt; Gabriele Roessler; Dietrich und Heike Harsch; Dr. Uwe Hoering; ClaudiaDöring; Lothar Höfler; Andre Kaufmann; Daniel Schillerwein; Uwe Kekeritz; Klaus- Dieter Sümmerer; Dr. Manfred Dullien; Erich Leinweber; Helvetas Schweizer Gesellschaft; Alexander Zollmann; Martin Franke;Pelka Regotze; Günther Pockrandt; Jürgen Heller; Martin Protz; Christian Allinger; Frank Kutzner; Ingeborg Henker- Kelsch; Dietmar Geckeler; Alexander Zollmann; Werner Neuper; Matthias Mack; Marianne Stengel; Detlef Nitz;Christine Miessl; Uwe Schnabel; Bobsy E.V. ;Sarah Pingel; BrittaKlinkforth; Dorothea und Adolf Bloch-Härlin; Sebastian Becker; Wolfgang Gehrcke-Reymann; PSI-EPSU; Hans-Walter Mühlhoff; Angelika Pfannenmüller; Marko Hentschke; Maria Abbt; Heinz Brachvogel; Tristan Chabredier; Albert Amar; Loïc Deroyand; Julien Danet; Uniterre Leborgne; I van; Jacques-Louis Kreiss; Alain Decorniquet; Hermann Aubié; Michel Kebaili; Nad Fachard; Nathalie Turck; Philippe Calvez; Bertrand Bidon; Jacques Petit; Anne Brochot; Fikri Aidoun; Eveline Reyt; Vincent Boudry; Stephane Nou; Ivan Chary; Vincent Palmieri; Sébastien Gault; Ruhi Aslan; Fabrice Carosio; Jean-Claude Membre; Camille Le Camus; Olivier Cuzon; Karl-Wolfgang Rebel; Barbara Waschmann; Ralf Bensel; France Liberté; Haleakala-Stiftung; Sozialistische Jugend - Die Falken, KV Schwerin;
"Water Makes Money" wins court case against Veolia: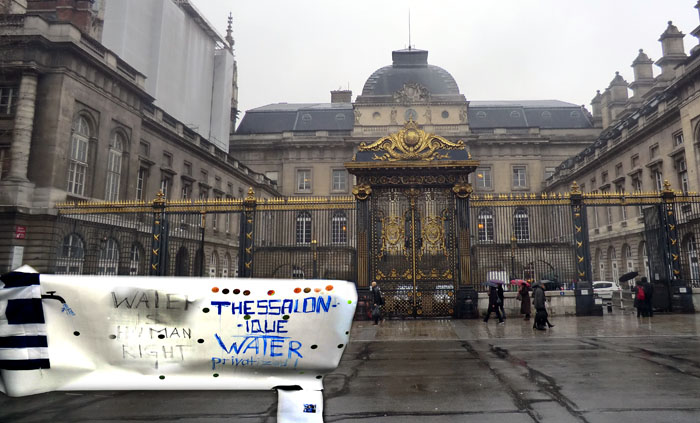 28 March 2013: The private French water company Veolia has lost three out of four of its charges against the film "Water Makes Money" and filmmakers Leslie Franke and Herdolor
Lorenz. In the most important point, the French courts declared in Paris today that the facts presented in the film justify the use of the term 'corruption', and that the filmmakers may continue to use this term in the film. The courts pointed out the conflict of interest between politics and business, citing several specific instances of corruption.
In one point, however, the courts upheld Veolia's claims. Even though the court proceedings made clear that Veolia uses bribes on a regular basis, the court ruled that this passage must be deleted from the French DVD version. All the other versions, including the French and German versions broadcast on Arte as well as the various international versions will most likely not be affected.
Shortly after the court proceedings in February, a highly-professional team of hackers attacked and completely destroyed the film's website www.watermakesmoney.org and various other websites operated by the filmmakers.
"How private corporations make money with water"
A film by Leslie Franke and Herdolor Lorenz. A coproduction of KERNFILM, Achille du Genestoux and La Mare aux canards, in collaboration with Aquattac and ZDF/Arte, sponsored by Hamburg Schleswig-Holstein Sponsorship Committee. Nominated for the German-French Journalism Prize 2012. Awarded with the Kant World Citizen Prize 2014.
10 to
15 years ago a wave of privatisations of our water supply started, which has been propagating since all over the world. Meanwhile the enduring consequences - such as slums cut off from the access to clean water and dry faucets in London - are sufficiently known. for Nowadays no one talks about privatisation, but about business concepts such as private public partnership. The only thing that counts here is the capital which 'creates' the infrastructure through loans. However, in these days of limited public finances, budgeting competence is at least as important as the technical mastering of water management. Many communities however are risking to be cheated by superior corporate groups. The movie "Water Makes Money" is a documentary about the biggest water companies and the resistance against them. It shows how 'money printing machines' of the companies work, especially in France and in German cities like Berlin or Braunschweig. However, "Water Makes Money" also encourages and shows the lessons the affected municipalities have learned from the dominance of Veolia & Co.: Water in public hands is necessary and possible!
The map indicates the current movie screenings of "Water Makes Money" and also gives an overview over all screenings that took place in the past. You can also see a overview table here.
DVDs and Blu-ray Discs of "Water Makes Money"
You can order DVDs of the documentary "Water Makes Money" here.
for private use (that means without screening license) for 27,34€ (incl. VAT) plus shipping costs.
for non comercial public screenings for 39,27€ (incl. VAT) plus shipping costs.
for comercial public screenings for 39,27€ (incl. VAT) plus shipping costs and partition of the receipts 40:60 distributor/cinema.
For Blu-Ray discs please make your order here.
Please note: Delivery charges change depending of the on the quantity of the products ordered and the delivery country.
Please let us know if you are organising a public screening. Just write an email with place, daten and time to our film campaigning team at This email address is being protected from spambots. You need JavaScript enabled to view it. in order to publish your event at our website.